Matthew Kelley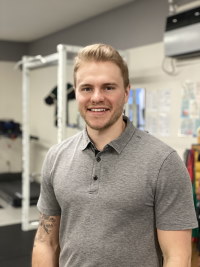 Physiotherapist
MPT
Matt has always had a keen interest in sport, exercise, and the human body which led him to his career in Physical Therapy. He obtained a Bachelor of Science degree in Kinesiology with Great Distinction in 2017 and then a Masters Degree in Physical Therapy in 2019.
Matt is a movement professional that provides people with the knowledge and tools to move, work, and perform better. Matt utilizes manual therapy, education, and therapeutic and functional exercise prescription to help people get back to doing what they love. Matt is committed to lifelong learning and will be looking to advance his skills in orthopaedic manual practices, sport physiotherapy, and dry needling.
Outside of the clinic Matt enjoys being outdoors, travelling, spending time with his family and friends, and playing various sports such as hockey, golf, and basketball.